Can You Afford Not to Have a Programmable Thermostat?
Anyone living in Maple Grove, Champlin, or Brooklyn Park, MN knows maintaining a comfortable temperature in your residence can be costly. Keeping just the right level of coolness in the summer and warmth in the bitter Minnesota winter can have you going to the thermostat frequently. Leaving home and forgetting to turn the thermostat up in the summer and down in the winter can lead to higher energy bills and wasted money.
Dave Kolby, owner of Comfort Solutions Heating & Cooling has the answer to saving money and improving the comfort of your home through the installation of a programmable thermostat. In his free E-book "Beginners Guide to: Programmable Thermostats", Dave draws from his many years of expert knowledge and explains why you should upgrade to a programmable thermostat.
Get Dave's Free E-book
Considering a Programmable Thermostat?
Let Dave Explain:
The Benefits of Programmable Thermostats
How to Select a Programmable Thermostat
Wi-Fi Programmable Thermostat – Do You Need One?
Exclusive Offer on the Installation of a Programmable Thermostat
Enter your name and email below to get INSTANT ACCESS to my free E-book:
"Beginners Guide to: Programmable Thermostats"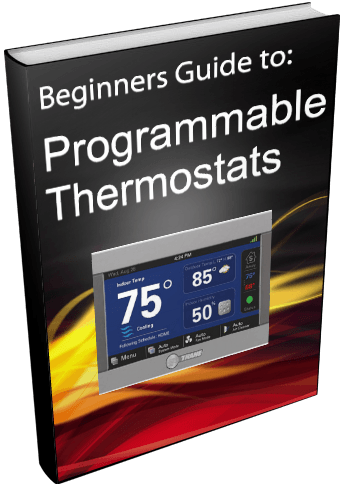 Save Money and Make Your Life Easier with a Programmable Thermostat

At Comfort Solutions we strive to stay current with technology. Programmable thermostats are an important component of the modern, and more energy efficient, HVAC systems. Whether you are a customer in Maple Grove, MN new to the idea of a programmable thermostat, or are ready to have one installed in your Brooklyn Park, MN home – this guide offers many useful tips and considerations.
In Dave's free E-Book he discusses: The Benefits of Having a Programmable Thermostat, How to Select a Programmable Thermostat, and Why would I Buy a Wi-Fi Programmable Thermostat?
You will also find an exclusive money saving offer on the installation of one of our favorite programmable thermostats.
Save over $100 a Year with a Programmable Thermostat
There are multiple benefits to having a programmable thermostat; primary among them being cost savings. Depending on the size of your Champlin, MN home, switching from a manual thermostat to a programmable thermostat can save you well over $100 per year or more.
How to Select a Programmable Thermostat for your Twin Cities Residence
Programmable thermostats allow you to set different temperatures at different times of the day, providing just the right comfort settings while you at home in Champlin, MN and adjusting to a set-back, or energy-saving temperature, when you're asleep, or out of the house living it up in the Twin Cities.
Things to keep in mind when selecting a programmable thermostat:
Programming options
The HVAC system in your home
Thermostat features
Why would I Buy a Wi-Fi Programmable Thermostat in the Minneapolis St. Paul area?
You can manage your Wi-Fi programmable thermostat from your phone, tablet, or computer via an easy to use app. From the remote interface, you can tweak the programming at any time to save money on heating and cooling or adjust your comfort level.
In conclusion, a programmable thermostat or a Wi-Fi programmable thermostat is a cost effective investment for your HVAC system. It can increase your energy savings and comfort level with minimal effort, saving you money, keeping you and your family comfortable, and providing you with added peace of mind. Comfort Solutions stands ready to help you choose and install the right programmable thermostat for your family, call us at 763-565-2121 today.
Trane CleanEffects™ Air Cleaner Whole Home Air Filtration System

We listen to our customers
Overall Rating /
186

Total 1st-Party Reviews
Comfort Solutions Heating & Cooling
Powered by GatherUp