Trane® Commercial HVAC Financing Options
Providing Added Value to our Commercial Rooftop and HVAC Customers
As a Certified Trane® Comfort Specialist, Comfort Solutions Heating and Cooling have financing options for commercial HVAC replacements, from rooftop units to the entire spectrum of Trane® commercial heating and cooling solutions such as chillers, air conditioners, cooling towers, air handlers, portable heaters, power generators, and ancillary products through Trane Technologies Financial Services, also called TTFS.  Plus, installation and complementary products and services including building controls, lighting, technologies, industrial and manufacturing equipment, and telecommunications equipment that is related to your Trane project or purchase can be financed.
Request a Quick Quote
Types of Eligible Businesses & Organizations We Work With
For commercial heating and cooling replacement financing, we routinely work with:
Sole Proprietorships
Corporations
Partnerships
Not For Profits (501c3)
Municipalities (Section 103)
Governments and Governmental Agencies
LLCs (Limited Liability Corporations)
Request a Quick Quote
How does Trane® Commercial HVAC Financing work?
Seven steps to successful commercial heating and cooling financing:
First contact Comfort Solutions Heating and Cooling at 763-565-2121, to help you prepare your application and navigate the process.
A monthly payment will be quoted to you by Comfort Solutions Heating and Cooling.  If you have not been quoted a payment, contact Comfort Solutions Heating and Cooling.
A Credit Application is required if you are ready to proceed with the financing.  Complete our easy online application and attach the job proposal (provided by Comfort Solutions Heating and Cooling).
Additional paperwork may be required:
If the financed amount is over $100,000, two years of financials may be requested along with other documentation.
Not-for-profit or religious entities must complete a Not-For-Profit/ Religious Organization Questionnaire.
A credit underwriter will review your application. Typically, you should receive a response within 24 hours with either an approval, denial, or request for additional information.
A financing agreement will be sent for execution following approval.  Upon receipt of the properly executed documents, advance payment (if any), and documentation fee (if required), a purchase order will be issued to Comfort Solutions Heating and Cooling.  This serves as notice to proceed with the transaction or installation.
Upon either the delivery of the equipment or in the case of a project, completion of the project, Comfort Solutions Heating and Cooling will submit an invoice.  After review, you will be contacted to verify equipment acceptance.
Request a Quick Quote
Advantages of Trane® Commercial HVAC Financing
One of the significant advantages of commercial heating and cooling equipment financing is cash flow. Financing conserves working capital.  Internal funds can be retained for new business opportunities or unexpected expenses.  At Comfort Solutions Heating and Cooling, we get it!  The advantages to financing go beyond just cash flow. Here are a few more examples:
Low Initial Investment – typically no down payments or payments in advance required.
Flexibility – in most cases all the investment associated with your project can be financed, including soft costs such as installation, engineering, extended warranties, etc. With a bank, money is usually only loaned to cover the equipment and other tangible (hard) costs.
Fixed Rates -the rate is fixed for the life of the financing. Bank lines of credit usually fluctuate depending on the market.  Fixed-rate financing is an excellent hedge against the risk of rising interest rates!
Longer Terms and Smaller Payments –terms are available up to 84 months**. The maximum with a bank loan is usually 48 – 60 months.
Increase Your Buying Power –financing provides a great source of funds that can preserve your bank line of credit.
New Technology –financing allows you to replace outdated technology with the new state-of-the-art equipment that you need to keep your business on the leading edge of your industry.
Minimum Collateral -Typically the equipment is the only collateral provided and or needed for the financing.
Financing your equipment with Trane Technologies Financial Services can keep you competitive in today's economy. It just makes good financial sense.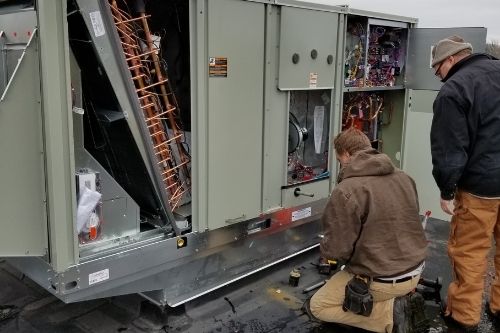 We'll Get it Done Right!  
Call Comfort Solutions Heating and Cooling Today!
763-565-2121
For a hassle-free commercial heating repair or replacement, commercial air conditioning repair or replacement, or an industrial ac repair or replacement estimate, from 3-ton rooftop ac units and 5-ton rooftop ac units to 3-25+ zoned rooftop systems, contact Comfort Solutions Heating and Cooling today at 763-565-2121, your local commercial HVAC expert.  In addition to rooftop repair and replacement, we specialize in split systems furnace and air conditioners, ductless splits, commercial make-up air units, infrared heaters, unit heaters, and building controls and exhaust fans.