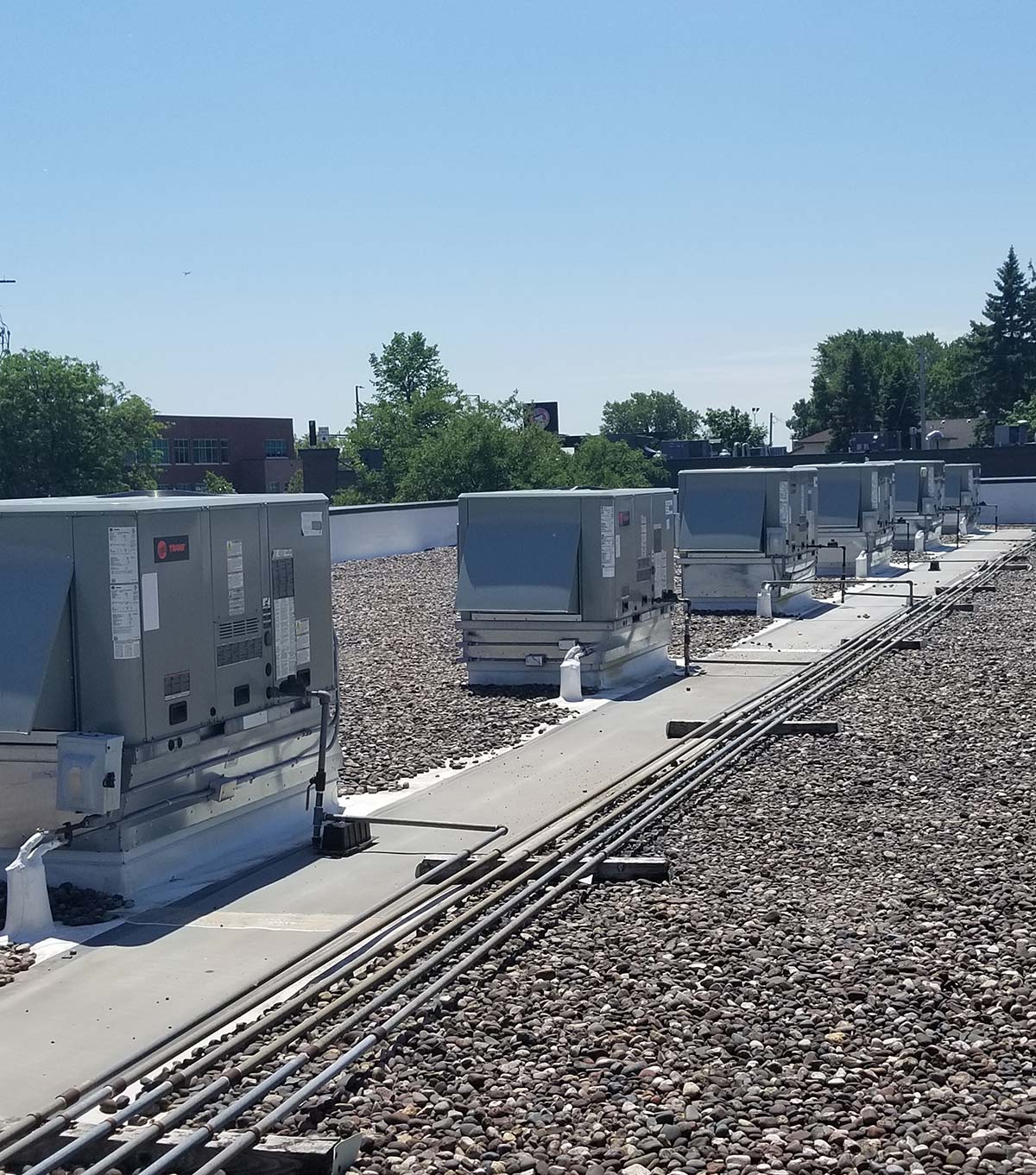 Commercial HVAC
Comfort Solutions Heating & Cooling is a veteran owned heating and air conditioning contractor that offers commercial service, repair, maintenance and new equipment installation for
greater Twin Cities area businesses.
With over 17 years of HVAC experience, Comfort Solutions Heating & Cooling is ready and able to assist with any commercial heating and cooling needs you may have.
Our thoroughly-trained and professional service Technicians are prepared to get the job done in order to keep your commercial HVAC unit running efficiently and save you money on overhead costs. With Comfort Solutions Heating & Cooling, satisfaction is guaranteed.
HVAC Equipment we service, install & repair
Rooftop Units
Air Conditioners
Furnaces
Humidifiers
Boilers
Unit Heaters
Radiant Heaters
Air Handlers
Make Up Air's
Thermostats
Ductless Splits
In Floor Heat
Air Cleaners
Zone System
Service & Repair
If your commercial air conditioning or heating unit is acting up, give us a call to get a technician or commercial air conditioning service on the scene quickly for a prompt commercial HVAC repair.
We have technicians on call 24/7, so even if it's after hours, don't hesitate to pick up the phone and call us if your commercial HVAC systems are malfunctioning in any way.
We are committed to providing high quality commercial services in a timely manner. Assisting you with all your HVAC needs while keeping your best interest in mind. We are proud of the work we do and we care that it is done right.
Installation & Replacement
Most business owners don't realize how important installation day is for the life of your commercial air conditioner and furnace units. If you don't get a high quality and professional installation, it could impact the efficiency, effectiveness and the life expectancy of your new heating and cooling system.
Comfort Solutions Heating & Cooling provides all the help you'll need when it comes to finding the right type of system, the proper size, and the right price tag for your business.
Our expert commercial HVAC installation technicians will then deliver your new system and install it quickly so that you can start enjoying the comfort of your new system Heating or Cooling system.
Ready to get started with Comfort Solutions for your commercial HVAC needs?
Why Preventative Maintenance
Many businesses make an investment in their HVAC system yet fail to understand the importance of proper upkeep. An HVAC system is similar to a car, in that they both require continued maintenance and preventative care to function properly, efficiently and maximize longevity. Maintaining your HVAC system will keep your business comfortable and your system operating economically for many years to come, which is why HVAC maintenance is important!
THE FACTS
Most HVAC equipment have energy wasting problems. Well documented studies show
100 th of an inch of dirt on an evaporator coil can increase your operating
costs by 5%.
Dirty blower wheel can reduce air flow over 30%.
23% Freon/refrigerant undercharge can cause 52% efficiency loss.
10% reduction in Air Volume (where excessive) can decrease fan energy
consumption by 30% and provide a more comfortable space temperature.
Depending on the severity, a savings of more the $100.00 per rated ton may
be possible where maintenance has been poor or non-existent
Comfort Solutions Performance Optimization Program (POP) is different. Besides keeping breakdowns and repairs at minimum, POP focuses on the many opportunities you have to reduce your ever-increasing utility costs. Utility cost is one of the things that "maintenance only" service agreements don't address.
Most businesses largest utility expense is normally the cost of providing air
conditioning and heating. These expenses can usually be reduced by 5 to 20% or more
by providing the type of maintenance out lined in our program.
With our POP Service Agreement, proper maintenance is only preformed when all energy wasting problems are eliminated and your equipment is operating at peak efficiency. One of the major goals of the POP Service agreement is to increase your cash flow and property value by reducing your utility costs and energy expenses. The exciting advantage of our program is you will pay as you save.
Benefits:
Extended Equipment Life
Improved Operating Efficiency
Reduced Energy Use/Energy Savings
Early Identification of Potential Problems
Less Frequent System Downtime
Increased Comfort/Reduced
Occupant Complaints
Includes:
Spring Cooling Tune Up
Fall Heating Tune Up
Quarterly Filter Changes
Priority Service
Detailed Condition Report
Discounted Hourly Rate on all repairs & service.
Every service plan is customized because every business has different needs. Request a no cost, no obligation site survey today!