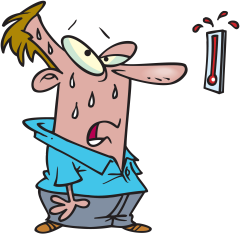 With spring and summer just around the bend, it is time to make sure your AC unit is ready to beat the heat.
There are many factors in making sure your AC unit is ready for these months, but don't worry, Comfort Solutions is here to assist.  We have put together a checklist to help make sure your AC unit is healthy and running efficiently.
Keep It Clean around Your AC Unit:
Before you turn on your air conditioner for the first time this year, make sure that your outdoor AC unit has at least two feet of clear space around it.  Trimming foliage that has encroached on the unit is also a good idea.  Lastly, if your central air system was exposed to the elements over the winter months, washing off any dirt and debris with your garden hose will help ensure your AC unit can runs optimally and efficiently.
Inspect Your Indoor Ductwork:
As you prepare for all the fun times summer brings, don't forget to inspect the ductwork in your home.  Any signs of holes, leaks, or cracking needs to be addressed before it gets too hot outside.  Leaky ductwork will create higher energy bills and result in less refreshing cool air being delivered to your family.
Check and Replace Your Filters as Needed:
Before it starts to get really hot outside and you are forced to turn on the air conditioning, check your HVAC filter.  Changing or cleaning your filter regularly is one of the best ways you can help your HVAC system run efficiently, saving you money on your energy bill.  Regularly changing your filters will also ensure a better air quality inside your home.
Test Your Air Conditioner Before It Gets Hot:
It might seem like common-sense but it is very easy for us to forget to test our indoor AC before we actually need it.  In the early spring, turn your air conditioner on and see how it is running.  Are you feeling cool air coming from the vents in your home? Are you hearing any unusual sounds while the AC is running?  Is the delay before the unit comes on longer than expected?
If your AC unit does not perform as expected give us a call at 763-565-2121 to schedule a maintenance checkup.  A little preventative maintenance is one of the most affordable ways to extend the life of your central air system.
Check Your Indoor Coil Drain:
Your air conditioner removes water from the air as it cools your home. This water has to drain somewhere, and the indoor coil drain can become dirty and clogged over time.
We suggest checking your indoor coil drain to ensure that it is clear of debris and draining properly, before summer starts. A clogged indoor coil drain can cause your AC system to run inefficiently and can cause harm to your AC over time.
Consider Installing a Programmable Thermostat:
Installing a programmable thermostat for your home can help you save money all year.  A programmable thermostat will heat and cool your home efficiently, based on your schedule.
Setting up a heating and cooling schedule for your home provides cost savings and convenience. Keep the house cool for your pets when you aren't home, or raise the temperature in the home during the day when you are working and the kids are at summer camp.  With a WiFi programmable thermostat you can even make changes when you aren't in your home.
Interested in learning more about programmable thermostats?  Request your FREE copy of my eBook, Beginners Guide To: Programmable Thermostats by clicking here.
Schedule an AC Maintenance/Tune-up with Comfort Solutions:
Your air conditioning system is complex. It requires maintenance over time. Spending a little money on regular maintenance can save you a lot of money in the long run.  Regular maintenance also helps to ensure you won't be without AC when you need it the most.
The Benefits of a Regular AC Maintenance Check-up Are Many:
Reduces monthly electric bill up to 20%
Helps parts last longer avoiding potentially costly repairs
Better cooling performance and humidity removal
Maximize energy efficiency
Longevity of equipment
Help prevent nuisance breakdowns
Improved Safety
Plan (budget) for future replacement as equipment failure indicators dictate
Required to keep factory and/or extended warranty coverage
All manufacturers recommend yearly maintenance
Peace of mind
At Comfort Solutions, we commend seasonal HVAC maintenance and check-ups to our customers.  Our expert technicians will inspect your AC unit and make sure that everything is running smoothly.
Our check-up includes:
Check operating pressures, amperage draw and settings
Check refrigerant charge and refill as needed
Clean and lubricate parts as necessary
Check wiring and connections
Inspect for leaks
Check belts and adjust tension
Isn't it time to schedule a maintenance check-up for your air conditioning system?  To schedule an appointment with one of our expert technicains simply call 763-565-2121 or email info@comfortsolutionstc.com.
We will happily take the time to discuss our various packages and find a perfect fit for your AC needs as we quickly approach the dog days of summer.