How Can That Be?
Contrary to what many believe, most of our exposure to environmental pollutants occurs while breathing indoor air. The products and materials we use and even many of our daily activities are the cause of these potentially dangerous pollutants. The air we breathe in our homes, workplace, and schools is on average 2x to 5x more polluted then the outdoor air – in some cases up to 100x more polluted.
As we spend more time inside the quality of the air we breathe indoors becomes a significant concern. It is estimated that the average person receives 75 percent of their chemical exposure at home. This is ironic as we usually consider our home to be our safest environment.
Here is a great info-graphic that breaks down the many sources of indoor air pollution that could be causing a health-risk in your home or office:
We Take Indoor Air Quality Seriously
Comfort Solutions has always striven to help improve quality of life in Maple Grove, Champlin, and Brooklyn Park with the services and products we install and maintain. Indoor air quality is something we take very serious.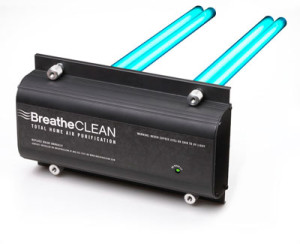 One of our favorite indoor air purification products is the BreatheCLEAN Total Home Air Purifier. We've installed many BreatheCLEAN purification modules and have been very impressed with their quality and capability.
The coolest thing about a BreatheCLEAN system is the module attaches onto your existing central ventilation system and continually cleans the air as the air is circulating. The BreatheCLEAN unit purifies your entire home and helps protect you and your family from allergies, asthma and sinus symptoms and keeps you all healthier throughout your lives.
You can have TOTAL Home Air Purification for far less money then you probably think! Give us a call at 763-565-2121 today and find out how quickly and affordably you can have a safer and healthier home. You can also email us at info@comfortsolutionstc.com.