At Comfort Solutions we are firm believers in using the most up to date tools of the trade.  As technology continues to inundate nearly every part of our lives, it is important that your heating and cooling technicians arrive armed with the right tool for the job.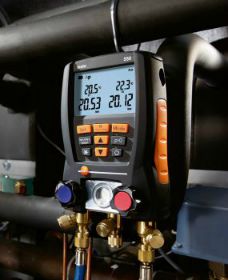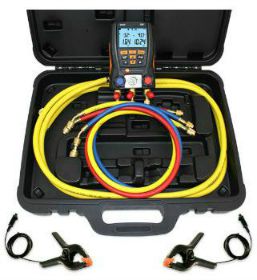 Digital gauges, though expensive, are a must for any service technician to properly charge today's high efficiency air conditioners and heat pumps. They are also used to diagnose and repair a problem with any air conditioning unit or heat pump. New higher SEER (Seasonal Effeciency Energy Rating) air conditioners and heat pumps need the refrigerant charge to be set perfectly in order for them provide the lowest operating cost while properly dehumidifying your home or business.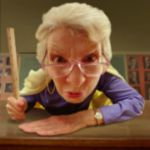 A properly charged air conditioning system will also last longer and have fewer breakdowns during its life; saving you money in the long run. The accuracy of digital regfridgerant manifolds is such that old, round, analog manifolds are unable to do the job. If a company is not mandating that their technicians use a digital manifold when charging or diagnosing your air conditioner, or heat pump they should get a stern talking to by your mom!
At Comfort Solutions we choose to use Testo brand digital refridgeration gauges to properly charge the quality Trane air conditioners and heat pumps that we install. We also use Testo digital gauges to service all the brands used by our many valuable clients.
If you are interested in having your air conditioner or heat pump properly charged or serviced please give us a call today at 763-565-2121 or email us at [email protected].
Thank You,
Dave Kolby